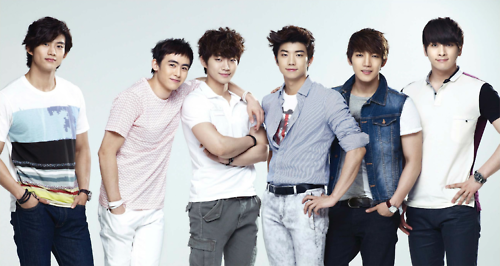 HAPPY 4TH ANNIVERSARY
TO MY DEAREST BOYS,
2PM!
♥♥♥♥
This is the 2nd anniversary since i became a hottest. <3
lol. i never imagine being a hottest can be this great.
Not even a second i regret for being in this fandom. kyaa~ :')


I never said that hottest is the best fandom in kpop
or 2PM is the best group in kpop.
But what i'm gonna saying is,
even if the rest of the world saying bad things about them, hating on them,
but 2PM is forever our lovely boys,
and we're not going giving up on that. :")
On our eyes, they're always the best.
Everyone's comment is invalid for us. lol :P
Last year when 2PM celebrate their 3rd anniversary,
Khun said that 3 years are just a beginning.
And it's already 4 years now.
But i still believe this is just a beginning for us.
Everyday is a new beginning, because there's no end for us.
♥♥♥♥
Lastly,
once again, happy 4th anniversary 2PM! <3
We all know that 2PM is a really tough group,
and that's make them who they are today.
Hardship make us stronger.
2PM even once had the biggest anti-fans among the kpop group.
But look at them now. 2PM is one of the most popular group.
That's the result from tears, sweats, heartache, and hardships.
Let's fighting together! <3
2PM, I LOVE YOU . AND FOREVER WILL .
♥♥♥♥♥♥♥♥♥♥♥♥♥♥♥♥♥♥♥♥♥♥♥♥

Thanks for existing,
Thanks for not giving up on any condition,
Thanks for come this far
and Thanks for loving us.
♥♥♥♥♥♥♥♥♥♥♥♥♥♥♥♥♥♥♥♥♥♥♥♥