Director: Jung Jung Hwa (

정정화

)
Screenwriter: Yoon Nan Joong (

윤난중

)
Broadcast network: tvN
Broadcast period: 2011-Oct-31 to 2011-Dec-20
Air time: Monday & Tuesday 23:00
Jung Il Woo

as Cha Chi Soo
Lee Ki Woo

as Choi Kang Hyuk
Lee Chung Ah

as Yang Eun Bi
Kim Shin Ah

as Kang Dong Joo
Park Min Woo

as Kim Ba Wool
Jo Yoon Woo

as Woo Hyun Woo
Jung In Ki

as Yang Chul Dong
Yang Eun Bi is a ordianry girl who prepasring for her civil service exam,
with dream of being a high school teacher.
One day, he accidentally meet a handsome and rich boy, Cha Ci Su, an arrogant son of the biggest food conglomerate in Korea.
Both of them ends up working at a ramen shop.
This ramen shop actually owned by Eun Bi's father.
But when her father passed away, he gave this shop to a nice-heart but lazy Choi kang Hyuk.
In the end, both Cha Ci Su and Choi Kang Hyuk fall in love with Yang Eun Bi.
Who will catch Eun Bi heart?
I watched this drama for about 3 days,
but actually the air-time is not long as the other drama.
Overall, i found this drama quite interesting.
But i think there's no climax for this drama. It will be good if there's a climax about the triangle love. But the plus point of this drama is i don't feel bored at all while watching the story. The story is very sraight and not making me confused.
So,i recommended this drama for you!
If i able to give stars, i'm gonna give Flower Boy Ramyun Shop 3,5 stars out of 5 stars.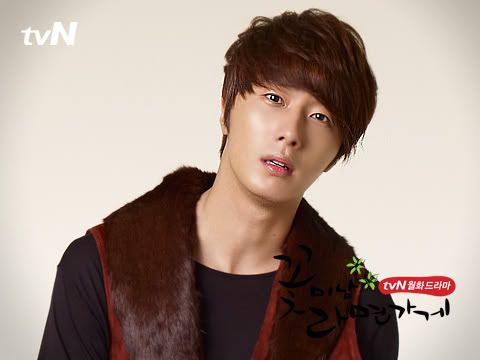 i v o n n a v i v i e n n e . thehottestkpop.blogspot.com